VOICES November Highlights

November 16 is fast approaching and we are only 3 weeks away from VOICES Always Remember Gala! This year we are very excited to honor two remarkable individuals who have contributed so much – former NYPD Commissioner Bill Bratton and FDNY Commissioner Tom Von Essen. Only a few seats are available, so we encourage you to register now if you plan to join us.
VOICES remains committed to building awareness about mental health and wellness. During the month of November we are hosting the first in a series of workshops related to suicide prevention, A New Approach to Suicide Awareness and Prevention. As the holiday season approaches our workshop, Learning to Thrive, Not Just Survive the Holidays is guaranteed to provide helpful hints on how to navigate this busy time of year.
All are invited to attend our virtual programs. Let us continue to bring one another strength and provide reassurance that we are not alone.
---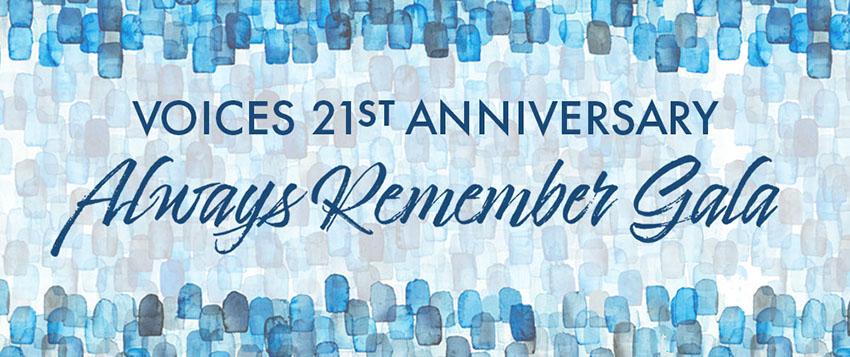 VOICES 21st Anniversary
Always Remember Gala
November 16, 2022
New York Athletic Club
180 Central Park South, New York City
6:00pm to 7:00pm - Cocktails
7:00pm to 10:00pm - Dinner and Dessert Reception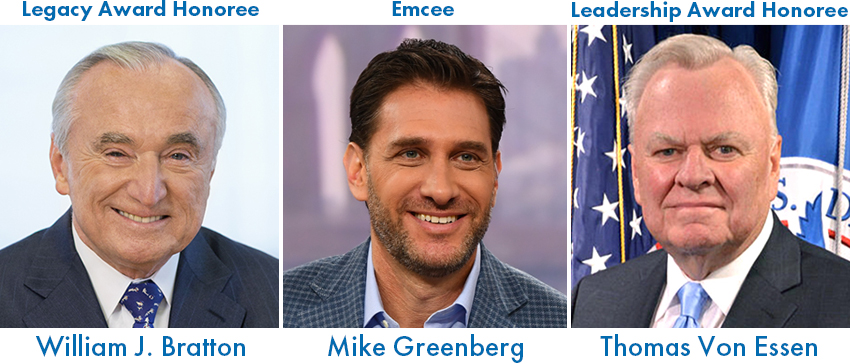 Join us on for an inspirational evening with Master of Ceremonies, ESPN's Mike Greenberg, as we recognize Former NYPD Commissioner William Bratton and FDNY Commissioner Thomas Von Essen for their longstanding dedication and important contributions. The event will include a special musical performance.
---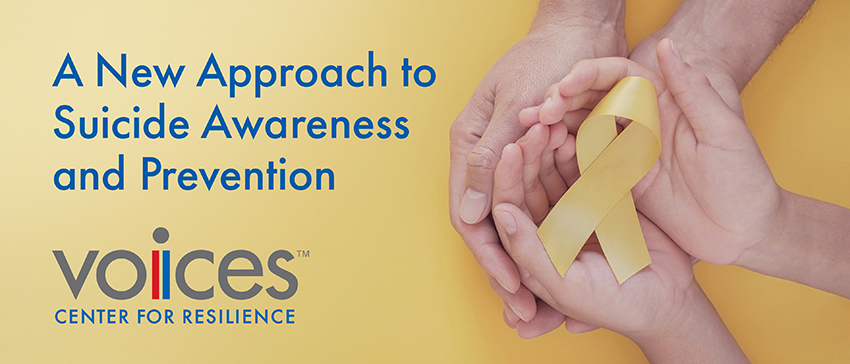 A New Approach to Suicide Awareness and Prevention
Virtual Workshop
Presented by: Maureen Underwood, LCSW
Monday, November 7 - 7:00pm to 8:30pm EST
Join us on Monday, November 7 at 7:00pm, for the first in a series of workshops to broaden your understanding of the risks and opportunities in suicide prevention.
The presentation will examine suicide from a slightly different perspective and provide guidelines and suggestions for identifying the signs of possible suicide risk, as well as strategies for broaching the topic and continuing the conversation.
---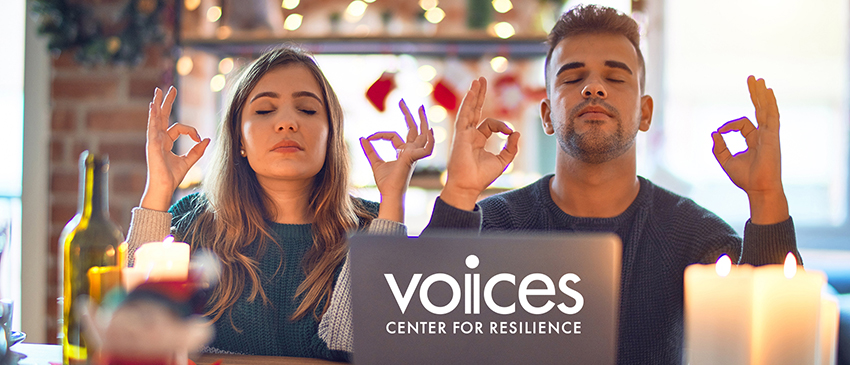 Learning to Thrive, Not Just Survive
During the Holidays
Virtual Workshop
Presented by: Mickie Brown, RN, HN-BC
Wednesday, November 30 - 7:00pm to 8:30pm EST
Do you anticipate feeling overwhelmed as the holidays approach? You're not alone.
Would you like to learn new ways to THRIVE, not just SURVIVE during the hustle and bustle of the holiday season? This virtual workshop will provide creative ways to help you enjoy this time of year and connect with your particular observance in a deeper and more profound way.
The presentation will focus on providing practical tips and mindful antidotes to support your health and happiness despite the expectations of the season. Join us for an insightful presentation by Mickie Brown, RN. followed by an open discussion facilitated by VOICES staff.
---
Peer Support Groups for the 9/11 Community
VOICES Peer Support Groups, led by VOICES clinical staff are held online. The groups provide a safe place to connect with one another, and acquire skills to build resilience. Participation is free and registration is required.
Family Members
November 14 and 28; December 12 - Register
Survivors
November 8 and 22; December 6 and 20 - Register
Responders
November 7 and 21; December 5 and 19 - Register
Bereavement Group for Those Who Have Lost a Loved One in the Past 3 Years
November 3 and 17; December 1 and 15 - Register
---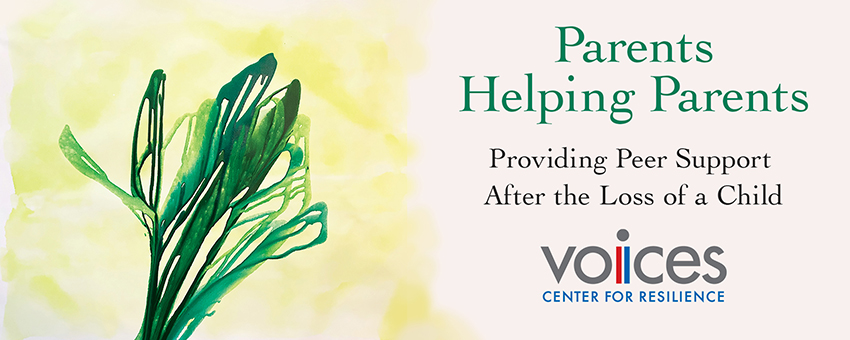 Parents Helping Parents In-Person Support Groups
Held the first and third Wednesday of each month
9:30am – 11:00am
Parents Helping Parents provides in-person peer support for those who have suffered the loss of a child. The group members:
Offer encouragement and comfort
Talk openly about personal experiences
Discuss topics relevant to grief and loss
Explore ways to grow in our personal journeys
Provide information and helpful resources
The support groups are held at the VOICES office located at: 80 Main Street, New Canaan, CT. If you are interested in attending, click here to register or call VOICES Center at 203-966-3911.
---
At this year's Symposium, VOICES had the honor of introducing newly appointed leaders of the 9/11 Memorial Museum and the Office of the NYC Chief Medical Examiner – two institutions with which VOICES has had a longstanding relationship.
Elizabeth L. Hillman, began her appointment as President & CEO of the 9/11 Memorial & Museum on October 3, following the retirement of Alice Greenwald. Ms. Hillman is a nationally recognized leader in higher education, history, justice and equality, and an expert on the U.S. military justice system. She began her career as a space operations officer in the U.S. Air Force. Most recently, Ms. Hillman served as the 14th president of Mills College.
Dr. Jason Graham was appointed NYC Chief Medical Examiner in April, 2022, following Dr. Barbara Sampson's tenure. Dr. Graham joined the OCME in 2006, subsequently serving as Deputy Chief Medical Examiner for Manhattan. His long and distinguished career includes his position as Chair for the Department of Forensic Medicine at the NYU Grossman School of Medicine. Dr. Graham renewed the OCME's longstanding commitment to use advanced technology to identify all of the 9/11 human remains in their possession.
Click here to view the video of Ms. Hillman and Dr. Graham from our Symposium.
---
Congratulations to Jon Stewart and John Feal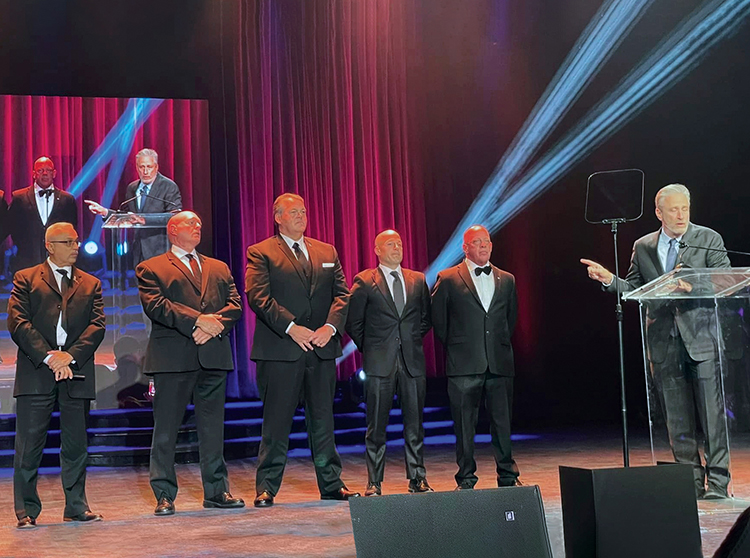 VOICES would like to congratulate Jon Stewart and John Feal - recipients of the President's Award at this year's 65th Annual New York Emmy Awards.
Jon Stewart, activist, Emmy Award winning host of The Daily Show and current host of The Problem with Jon Stewart and activist John Feal were recognized for their tireless efforts on behalf of 9/11 first responders.
Click here to watch, highlight starts at 1:27.
---
On Wednesday evening, October 12th, the New Canaan Youth Baseball organization was honored to present a donation to Voices Center for Resilience. Pictured with the team are (left to right): VOICES Founding Director, Mary Fetchet; Vice President, Frank Fetchet; Brian Rogers, Head Coach; and Jeff Fortmann, Head of Community Relations.
New Canaan Baseball has continued this tradition for more than 5 years now and we could not be more proud. The organization seeks to provide a healthy sports environment for the youth of New Canaan. They encourage participation from all children of the community within the ages they serve.