22nd Annual Symposium | Speakers | September 9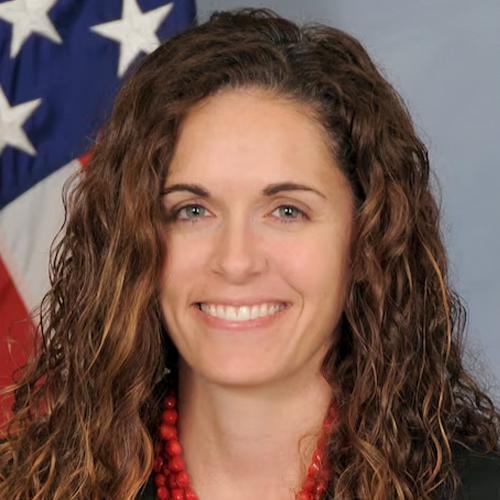 Christine Abizaid
US Director of National Counterterrorism Center (NCTC)
Christine "Christy" Abizaid was sworn in as the Director of the National Counterterrorism Center on June 29, 2021. She is the eighth Senate-confirmed Director and the first woman to lead the United States' counterterrorism enterprise. Possessing 14 years of national security experience, Abizaid has served in key leadership positions. During the Obama Administration, Christy served as the Deputy Assistant Secretary of Defense for Afghanistan, Pakistan, and Central Asia.
Prior to joining the Office of the Secretary of Defense, Abizaid served on the National Security Council Staff as both Director for Counterterrorism and Senior Policy Advisor to the Assistant to the President for Homeland Security and Counterterrorism. She also served for seven years with the Defense Intelligence Agency's (DIA) Joint Intelligence Task Force Combating Terrorism as the Senior Intelligence Analyst in the Afghanistan-Pakistan Division and the Iraq/Middle East Division. During this time she deployed several times throughout the Middle East, including a tour as the senior DIA counterterrorism representative in Iraq.
Abizaid most recently served as an executive at Dell Technologies in its Global Operations organization, where she led supply chain assurance initiatives.
A decorated intelligence officer, Abizaid has received the Office of the Director of National Intelligence Award, the National Military Intelligence Association John T. Hughes Award, and the DIA Meritorious Civilian Service Award. Abizaid holds a B.A. in psychology from the University of California, San Diego, and an M.A. in international policy studies from Stanford University.
His early career saw Jon tackling armed robberies in London as a leader for Scotland Yard's 'Flying Squad' a role in which he received several Judges' Commendations for his work. Jon is an avid football fan, a supporter, he chairs UK Police Sport football and is a lifetime follower of Derby County.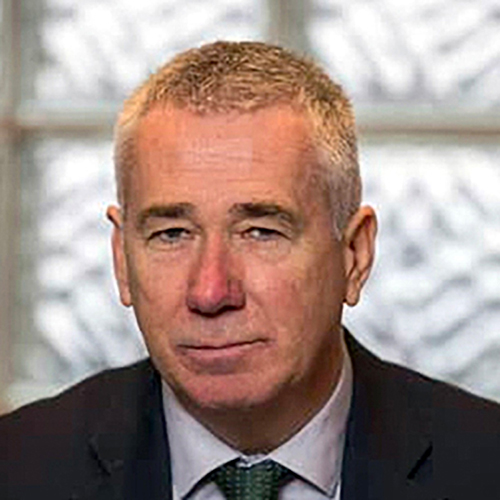 Jon Boutcher
QPM Mst (Cantab) FRSA, Head of Operation Kenova
Jon is a retired Chief Constable of Bedfordshire Police (2019) in the UK. He is currently in overall charge of Operation Kenova (an investigation into an alleged state agent and the claims of that agent being involved in mass torturing and murder). He has also agreed to undertake investigations into the murder of three RUC officers (October 1982), leading to shoot to kill allegations; and the death of female shot in 1972 which the family claim was the result of security forces activity.
He has been requested to take charge of a review into the "Glenanne Gang" series of atrocities arising out of a judicial direction, which involves around 127 murders. Jon was selected for these high-profile public confidence cases due to his operational credibility, and his considerable strategic background in leading covert intelligence gathering tactics in the UK. He has a unique senior policing history in running high profile and sensitive investigations.
Jon is especially respected for his victim focused approach, putting families at the center of his investigations. He has acquired huge levels of trust and respect across the legacy stakeholder community in Northern Ireland.
Jon appointed an independent victim focus group and investigative steering group of respected and experienced international professionals to provide oversight and challenge to his Northern Ireland investigations, ensuring previously unseen transparency and accountability. Jon has submitted some 35 files of evidence to the Public Prosecution Service in Northern Ireland, and he is in the advanced stages of producing a public report setting out the findings from his work.
As a chief constable Jon built trust through establishing new relationships with communities on a scale not previously experienced in force and led Bedfordshire Police to be the most improved police force in the UK.
Jon has a long history in Operational Counter Terrorism and Crime Policing, he was entrusted by police forces to build and oversee a specialist unit responsible for tackling serious organized crime and terrorism across the east of England. He was also the UK National policing lead for Technical Surveillance, Covert Policing and Undercover Policing. He also held post of National Coordinator for Pursue under the UK Contest strategy.
Jon has an impressive record as a Senior Investigating Officer in international terrorism cases including:
War crimes committed in Afghanistan;
Operation 'Rhyme' (traced British men who planned coordinated mass casualty attacks in USA & UK);
the 'Manhunt' identifying 21/7 (2005) failed terrorist plotters, UK.
His early career saw Jon tackling armed robberies in London as a leader for Scotland Yard's 'Flying Squad' a role in which he received several Judges' Commendations for his work. Jon is an avid football fan, a supporter, he chairs UK Police Sport football and is a lifetime follower of Derby County.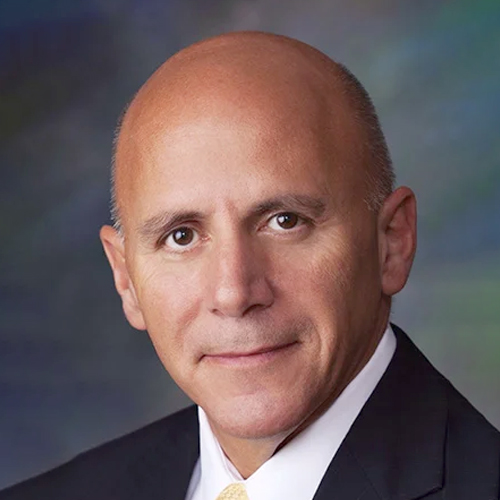 Frank DePaolo
Deputy Commissioner for Forensic Operations & Investigations City of New York, OCME
Frank DePaolo, RPA is the Deputy Commissioner for Forensic Operations & Investigations. He has been working in the emergency response / forensic field for the past 25 years and has been with the Office of Chief Medical Examiner since 2001, first joining as a physician assistant in the role of medicolegal investigator.
DePaolo began his career with city government as a New York City paramedic. He previously served as the OCME's Emergency Manager where he oversaw the World Trade Center Human Remains Recovery Project. DePaolo has held positions on multiple national health and forensic science boards, including serving most recently as President and Chairman of the Board for the International Association of Coroners and Medical Examiners, and as an advisor with the United States Centers for Disease Control and Prevention (CDC). He regularly travels to other jurisdictions to advise on mass-scale forensic operations and disaster-event preparedness, sharing his experiences as former Navy Lieutenant Commander as well as overseeing 9/11 victim recovery and identification efforts.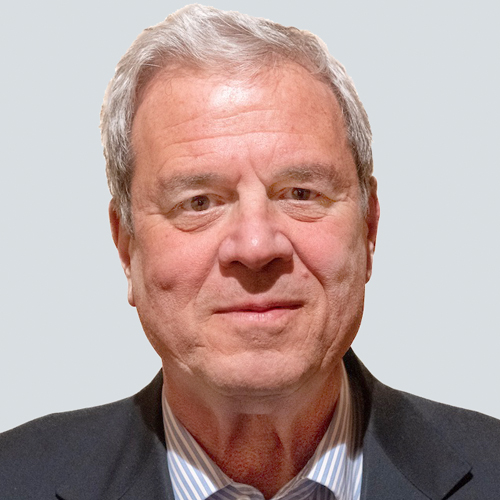 Richard Esposito
CEO RoundHouse Strategies, Ex NYPD, NBC
Richard Esposito is a corporate and crisis communications strategist whose reputation management expertise spans the public and private sectors and includes significant experience in setting and overseeing complex policy and investigative agendas. His recent client base includes prominent public figures, first tier law firms, private equity, Wall Street and entertainment industry executives.
His advisory services include litigation support, conflict resolution, C Suite counsel, proactive reputation management and the successful execution of media strategies across a complex landscape.
Esposito's clients are well served by his 35 years in news and public affairs including roles as Deputy Commissioner for Public Information and for Strategic Communications at the New York City Police Dept. A winner of five Emmy Awards, Esposito shares in a Pulitzer Prize & has been recognized for significant accomplishments as a journalist at ABC News, NBC, and other organizations in the digital, cable, broadcast, radio and print industries.
At the NYPD he oversaw one of the nation's largest public affairs offices. He also was charged with communications strategy especially pertaining to initiatives designed to win back public trust. He was responsible for executive comms training & developing branded content including podcasts targeting diverse audiences.
Immediately prior, he executive produced an award winning seven-part series, "Reckoning and Reform," for PBS' Syracuse based WCNY. And as Sr. Investigative Producer for ABC Lincoln Square's series on the events of 1969 including Chappaquiddick, the Manson murders, & the Apollo moon landing he was nominated for an Emmy for an episode on Black Panther Fred Hampton's death.
Previously, as Sr. Executive Producer, Investigations at NBC, Esposito brought Edward Snowden to American TV. He won a Peabody award for his role in the coverage of the Boston Marathon Bombing. In addition to public facing investigations he conducted internal investigations, notably one designed to restore the network's damaged reputation for fairness and honesty.
At ABC News, he served as Sr. Investigative Reporter & his George Polk Award winning reports took audiences inside the CIA's secret prisons revealing specific techniques used to extract questionable confessions. He won a Peabody Award for his role in leading the Superstorm Sandy coverage. Before joining ABC he was Metro Editor & Sunday Editor at the NY Daily News & City Editor at NY Newsday. He authored two non-fiction books, lectures & serves as a commentator for CBS News.
His early career saw Jon tackling armed robberies in London as a leader for Scotland Yard's 'Flying Squad' a role in which he received several Judges' Commendations for his work. Jon is an avid football fan, a supporter, he chairs UK Police Sport football and is a lifetime follower of Derby County.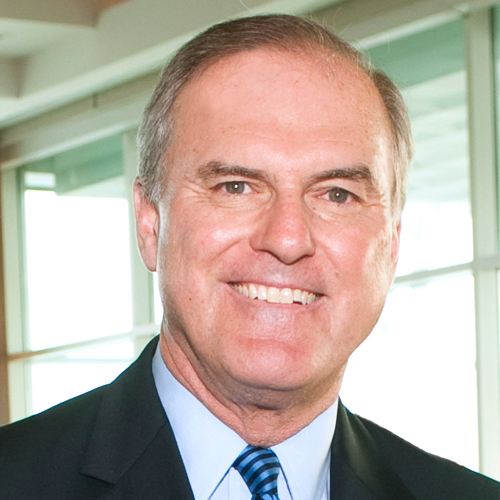 Frank Fetchet
Chief Operating Officer, Voices Center for Resilience
Frank joined the VOICES team in 2005 as a full-time volunteer. He serves as VOICES Chief Operating Officer and in this role oversees all legal agreements, fundraising, administration, and general operations. He also serves as ex officio VOICES board member.
Frank retired from IBM in 2005 after a career of nearly 33 years. He held a variety of sales and executive positions including Global Client Director and Vice President, Alliances in the Computer Services Industry. Following his retirement from IBM, he established Fetchet Consulting LLC which helped firms with their route-to-market and distribution strategies.
Frank resides in New Canaan, CT with Mary, his wife of more than 50 years. He graduated from Youngstown State University and was an IBM Certified Client Director, having participated in the Harvard Executive Program. Frank and Mary have three sons, Wes, Chris - and Brad, who perished at the age of 24 on 9/11.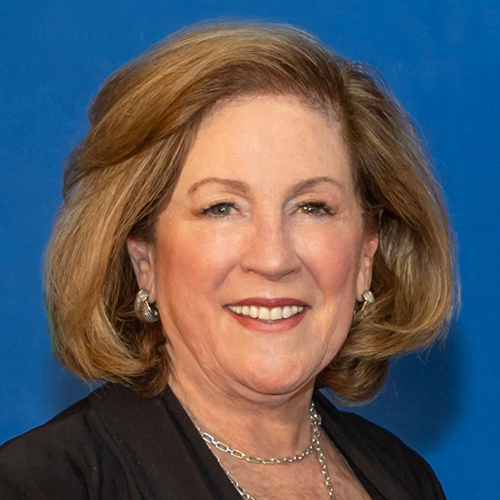 Mary Fetchet, LCSW
Founding Director and President, Voices Center for Resilience; Member Operation Kenova Victim Focus Groups and INVICTM
Mary Fetchet is the Founding Director and President of Voices Center for Resilience (VOICES), formerly Voices of September 11th, an organization she co-founded following the death of her 24 year old son Brad in the September 11th terrorist attacks. Her unique background as a mother of a victim along with 29 years of expertise as a clinical social worker, influenced VOICES creation of a new paradigm in providing long-term support services that promote mental health care and resilience.
Using social work practices, she developed a wide array of innovative programs that provide continuity of care and promote resilience in the lives of those impacted. VOICES has served tens-of-thousands of victims' families, survivors, responders, and families of those who have died of 9/11-related illnesses.
Ms. Fetchet is equally committed to leveraging VOICES over two decades of expertise to assist communities in preparing for, responding to, and recovering from other tragedies. Working collaboratively with public-private partnerships in the United States and abroad, she shares lessons learned, provides training and conducts research. More recently she is creating VOICES Community Preparedness Training, A Victim-Centered Approach to Prepare for, Respond to, and Recover from Tragedy, a two-day training for community stakeholders that will be launched in September, 2023.
A strong advocate for victims' rights and mental health care for victims' families, responders and survivors, Ms. Fetchet provides a unique perspective on the long-term needs of those impacted by tragedy. As an advocate for public policy reforms to make the country safer, she was instrumental in advocating for the establishment of the 9/11 Commission which led to sweeping government intelligence reforms and testified on five occasions before the United States Congress and the 9/11 Commission. Ms. Fetchet has served on dozens of advisory boards including the 9/11 Memorial and Museum, INVICTM, the Family Steering Committee for the Establishment of the 9/11 Commission, and the Office of the Chief Medical Examiner.
Ms. Fetchet is a co-author of several publications based on research findings from, "Investigating the Long-term Impact of Bereavement due to Terrorism." As a pioneer in preparing communities, she led the creation of Preparing for After: How to Help Victims of Mass Violence and VOICES of Experience: Helping Communities Heal After Traumatic Events.
A 1994 graduate of Columbia University School of Social Work (CUSSW), Ms. Fetchet has received numerous awards for her work, including the induction into the Hall of Fame at Columbia University School of Social Work, ABC News Person of the Year, and NBC News Making a Difference.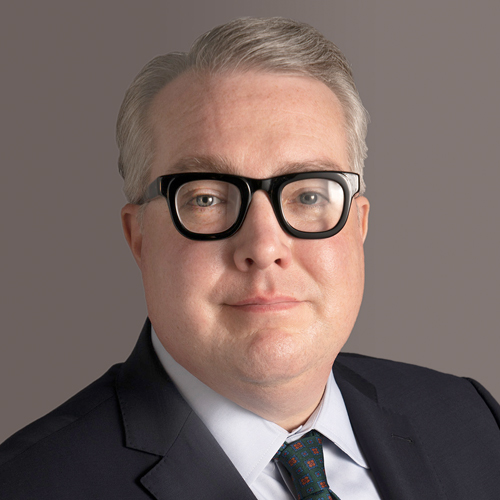 Dr. Jason Graham, MD
New York City Chief Medical Examiner
Jason Graham, MD was appointed Chief Medical Examiner of New York City by Mayor Eric Adams in April 2022. In this role, he oversees investigations into deaths in New York City, and the operation of the largest public DNA laboratory in the nation. He previously served as Acting Chief Medical Examiner since December 2021 and as First Deputy Chief Medical Examiner, the second highest leadership position within OCME, since 2013.
Dr. Graham joined the Office of Chief Medical Examiner in 2006, and later served as Deputy Chief Medical Examiner for the borough of Manhattan. With a particular focus most recently on the investigation of overdose fatalities, he leads OCME's response to the opioid epidemic in coordination with local, state and federal partners. Dr. Graham established the OCME Drug Intelligence and Intervention Group in 2016 and currently serves as Chair of the city's RxStat Overdose Fatality Review Committee led by the OCME since summer 2021.
A native of Tennessee, Dr. Graham graduated from the University of Tennessee College of Medicine where he was inducted into the Alpha Omega Alpha Honor Medical Society. He then completed general surgery internship and anatomic pathology residency at Emory University School of Medicine in Atlanta prior to subspecialty fellowship training in forensic pathology at the Emory/Fulton County Medical Examiner program. Dr. Graham is board certified by the American Board of Pathology in both anatomic and forensic pathology. He holds faculty appointment currently as Chair for the Department of Forensic Medicine at the New York University Grossman School of Medicine. Dr. Graham has published in numerous peer-reviewed scientific journals in the areas of forensic science, medicine, and pathology, and he is a member of both the American Academy of Forensic Sciences and the National Association of Medical Examiners.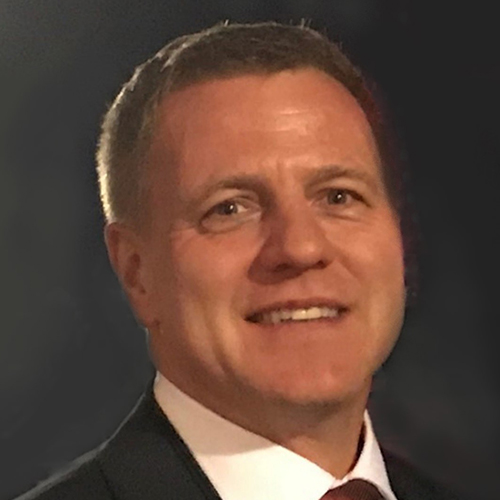 Wayne Hendricks
Chief Security Officer, Macquarie Group
Wayne is the Head of Global Security at Macquarie Group and is responsible for corporate security, fraud management, crisis management, insider threat and threat intelligence. Prior to joining Macquarie, Wayne spent nine years at Goldman Sachs leading various security functions, including as head of executive protection.
Preceding his corporate career, Wayne served as an officer in several specialised units in the South African military and government services, including as a hostage negotiator and special operations officer. Wayne was also a team leader for President Mandela's protection detail. Wayne holds a JD Law degree.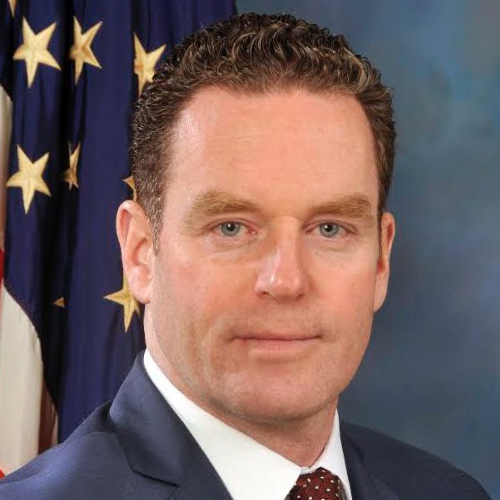 Robert C. Kissane
Special Agent in Charge of the Counter-terrorism Division of the New York Field Office (FBI)
Director Christopher Wray has named Robert C. Kissane as the special agent in charge of the Counterterrorism Division of the New York Field Office. Mr. Kissane most recently served as a section chief and acting deputy assistant director in the Counterintelligence Division at FBI Headquarters in Washington. As SAC, Mr. Kissane will also oversee the New York Joint Terrorism Task Force.
Mr. Kissane joined the FBI as a special agent in 2003 and has spent the bulk of his career in the New York Field Office. He was first assigned to investigate violent crime as a member of the New York Joint Bank Robbery Task Force. In 2009, he transferred to the New York JTTF and investigated terrorist threats to the United States from East Africa. He was promoted to supervisory special agent in 2014 and oversaw those investigations.
In 2017, Mr. Kissane was named the chief of a unit in the Counterterrorism Division at Headquarters that focused on terrorism matters originating in the Arabian Peninsula and Africa.
Mr. Kissane returned to New York in 2020 as an assistant special agent in charge, responsible for ensuring the office executed its national security mission to defeat foreign intelligence threats and activities.
In 2021, Mr. Kissane was appointed chief of a China operations section in the Counterintelligence Division at Headquarters that covers intelligence services, technology transfer, and espionage. He also served as acting deputy assistant director of the division's China Branch.
Mr. Kissane received the FBI Director's Award for Excellence in the human intelligence program for his role on the team that located an operative wanted for his role in the 2000 USS Cole Attack.
Prior to joining the FBI, Mr. Kissane served in the U.S. Army and worked in banking and finance. He earned a bachelor's degree in systems engineering from the U.S. Military Academy at West Point and a master's degree in finance from the University of Colorado.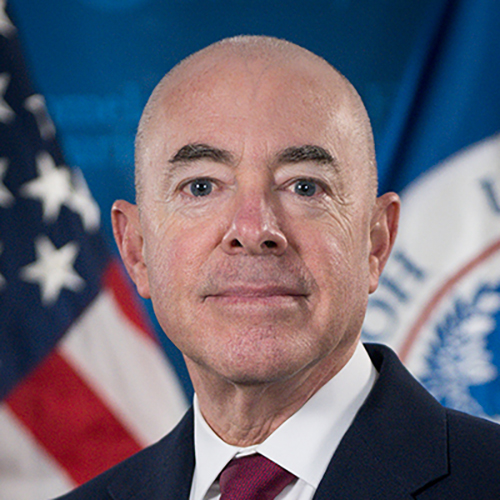 Alejandro Mayorkas
Secretary of the Department of Homeland Security
Alejandro Mayorkas was sworn in as Secretary of the Department of Homeland Security by President Biden on February 2, 2021. Mayorkas is the first Latino and immigrant confirmed to serve as Secretary of Homeland Security. He has led a distinguished 30-year career as a law enforcement official and a nationally-recognized lawyer in the private sector.
Mayorkas served as the Deputy Secretary of the U.S. Department of Homeland Security from 2013 to 2016, and as the Director of U.S. Citizenship and Immigration Services from 2009 to 2013. During his tenure at DHS, he led the development and implementation of DACA, negotiated cybersecurity and homeland security agreements with foreign governments, led the Department's response to Ebola and Zika, helped build and administer the Blue Campaign to combat human trafficking, and developed an emergency relief program for orphaned youth following the tragic January 2010 earthquake in Haiti. Mayorkas also created the Fraud Detection and National Security Directorate to better ensure the integrity of the legal immigration system.
Mayorkas began his government service in the Department of Justice, where he served as an Assistant United States Attorney in the Central District of California, specializing in the prosecution of white collar crime. After nearly nine years as a federal prosecutor, he became the youngest United States Attorney in the nation, overseeing prosecutions of national significance, including the investigation and prosecution of financial fraud, violations of the Foreign Corrupt Practices Act, public corruption, violent crime, cybercrime, environmental crime, international money laundering, and securities fraud.
Mayorkas received his bachelor's degree with distinction from the University of California at Berkeley and a law degree from Loyola Law School.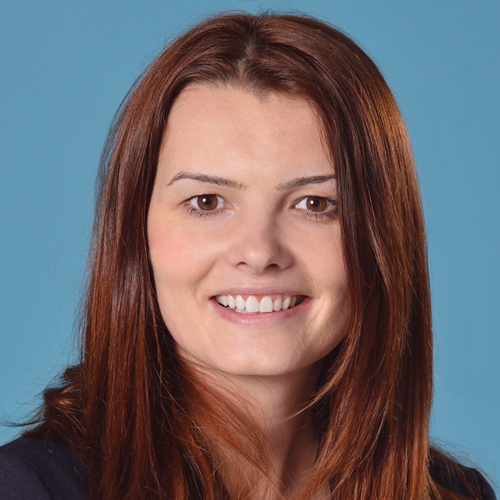 Maria McDonald
INVICTM Member, Operation Kenova Victim Focus Group
Maria McDonald BL is an Irish Barrister called to the bar in 2007. Maria has acted as a defence lawyer and as consultant on issues relating to female genital mutilation, gender-based violence, criminal legal aid, international criminal law and victims' rights. Her work has been referenced in the Dail and Seanad (Irish Houses of Parliament) and used for the filing of an amicus curiae brief before the International Criminal Court.
From 2008 to 2014 she lectured part time in Dublin City University in subjects such as international human rights law, international trade law and public international law.
Maria was a founding member of the Victims' Rights Alliance, a group of victim rights NGOs and human rights organisations. Their work resulted in the successful implementation of dedicated victim's rights legislation in Ireland.
Maria is on the Victims Focus Group for Operation Kenova, an investigation into the alleged activities of an individual codenamed Stakeknife, during a period known as 'the troubles' in Northern Ireland.
Maria completed a project, co-funded by the European Commission, which developed training on victim's rights for lawyers and judges across five EU member states. In 2020, she was invited to be an Advisor to the EU Centre of Expertise for Victims of Terrorism. Maria has been a member of the Canadian Association of Chiefs of Police (CACP) Law Amendments Committee and the International Association of Chiefs of Police (IACP) Victim Services Committee. She is a founding member of the International Network Supporting Victims of Terrorism and Mass Violence (INVICTM).
From October 2018 to April 2023 Maria worked with the Ontario Provincial Police (OPP) as Deputy Director – Victim Support Strategy Lead. Her time at the OPP resulted in the development of a Framework for a Victim-Centred Approach, a victim-centred mass casualty response and the implementation of the OPP Victim Specialist Program, a program, with 14 full time staff, which has recently been made permanent. In May 2023, she joined the Immigration and Refugee Board of Canada on a two-year secondment as a Project Specialist.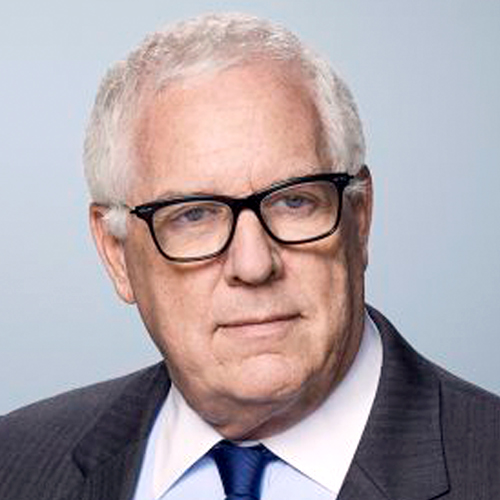 John Miller
CNN Chief Law Enforcement and Intelligence Analyst, Retired Deputy Commissioner of Intelligence and Counterterrorism NYPD
John J. Miller is the Chief Law Enforcement and Intelligence Analyst for CNN. Miller joined the network in 2022 and will is based in the network's New York bureau. He is a veteran award-winning journalist and experienced law enforcement and intelligence executive.
Prior to joining CNN, Miller served as Deputy Commissioner of Intelligence & Counterterrorism of the New York Police Department (NYPD). In that role, Commissioner Miller oversaw the Intelligence Bureau, the Counterterrorism Bureau, and the NYPD's partnership with the Federal Bureau of Investigation (FBI) NYPD Joint Terrorism Task Force (JTTF). Commissioner Miller is the former Deputy Assistant Director of National Intelligence for Analysis overseeing programs to improve analysis across the US government's 16 intelligence agencies as well as the team that produced the President's Daily Intelligence Briefing (PDB). Before that, he was an Assistant Director of the FBI, where he oversaw public affairs, community outreach and served as the bureau's national spokesman.
Along with his law enforcement career, Miller has worked in journalism as a senior correspondent for WNBC-TV in New York, ABC News as a correspondent and anchor, CBS News reporting for CBS This Morning, CBS Evening News, and 60 Minutes. Miller is best known for conducting a May 1998 interview with Osama bin Laden in Afghanistan.
He is a winner of the DuPont Silver Baton ("DuPont Award), two Peabody Awards and eleven Emmys. Miller was named the 2019 recipient of the prestigious FBI-NEIA Penrith Award for excellence in law enforcement leadership.
Miller is also the co-author of the New York Times bestseller "The Cell: Inside the 9/11 plot" (Hyperion, 2002).
He is a member of the International Association of Bomb Technicians and Investigators and the International Association of Chiefs of Police. Miller has been an instructor at the FBI's National Executive Institute, as well as the Leadership in Counterterrorism (LinCT) course, and has received specialized training in management and organizational change from Harvard University's John F. Kennedy School of Government, the Kellogg School of Management at Northwestern University and Columbia University.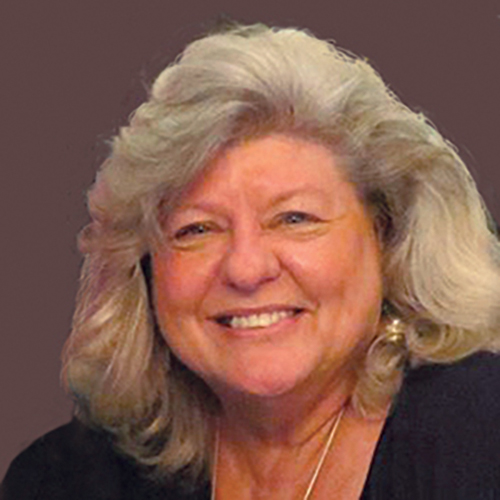 Sue O'Sullivan
Chair INVICTM, LinCT-AA ED Canada
Throughout her career, Sue O'Sullivan has been an advocate for safe and healthy communities and for increased services to victims. Ms. O'Sullivan began her distinguished career in policing in 1981, holding numerous leadership positions throughout her 30 years of service until retiring as Deputy Chief of Police (Ottawa).
Continuing forward with her work and drawing on her background and interest in assisting those affected by crime, Ms. O'Sullivan began an appointed term as Canada's Federal Ombudsman for Victims of Crime on August 16, 2010 and completed her term on November 15th, 2017. During her time as Ombudsman, Ms. O'Sullivan continually placed a strong emphasis on ensuring that victims' voices were heard at the federal level and pushed for positive change for victims of crime in Canada, including making recommendations to the Government of Canada on legislative and policy amendments.
She is currently the Chair of the International Network Supporting Victims of Terrorism and Mass Violence and the CACP National Working Group Supporting Victims of Terrorism and Mass Violence, a founding member of Victim Support Asia, a member of the International Victims Focus Group for Operation Kenova, a member of the Counter Terrorism Preparedness Network - Humanitarian Assistance and Psychosocial Subgroup and the ICRC Missing Persons Global Community. Sue is also a past president of the Leadership in Counter Terrorism Alumni Association and the Executive Director of the LinCT-AA Canada. Sue was appointed to the National DNA Data Bank Advisory Committee in 2018. She has received several prestigious awards and recognitions, including the 2022 World Society of Victimology's 'Irene Melup Certificate of Appreciation.'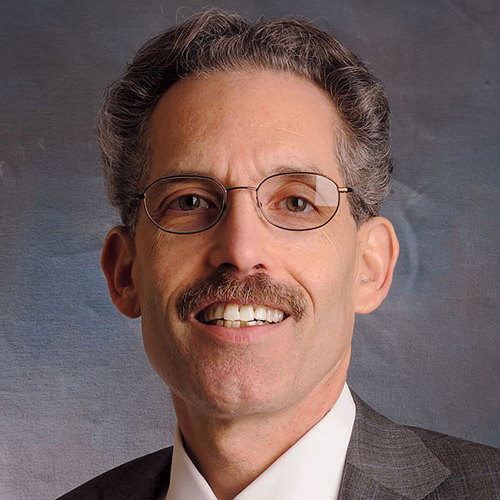 Dr. David Prezant
Chief Medical Officer, FDNY; Special Advisor to the Fire Commissioner for Health Policy
Dr. David Prezant is the Chief Medical Officer for the Fire Department of the City of New York (FDNY) and the Special Advisor to the Fire Commissioner for Health Policy. He has overall responsibility for the Bureau of Health Services, Counseling Services Unit, the WTC Health Program, and the Office of Medical Affairs.
He is FDNY's senior Pulmonary Consultant, Co-Director of FDNY's World Trade Center (WTC) Medical Program, the Principal Investigator for the NIOSH funded FDNY WTC Data Center and the Co-Director of the NIOSH funded FDNY WTC Clinical Center of Excellence.
Dr. David Prezant received his Bachelor of Science from Columbia College in 1977 and his Doctor of Medicine from the Albert Einstein College of Medicine in 1981. After completing his internal medicine residency at Harlem Hospital, he returned to Albert Einstein College of Medicine and Montefiore Medical Center for his Pulmonary Fellowship training. Currently, Dr. Prezant is a Professor of Medicine at the Albert Einstein College of Medicine and a pulmonary physician at the main teaching hospital – Montefiore Medical Center. He is the course director for the Albert Einstein College of Medicine course on Pulmonary, Critical Care & Disaster Medicine.
In 1986, Dr. Prezant became an FDNY Medical Officer and in 1994 the Deputy Chief Medical Officer. In 2006, supervision of FDNY's Office of Medical Affairs for Emergency Medical Services was added to his responsibilities. In 2010, he was appointed to be a Chief Medical Officer and the Special Advisor to the Fire Commissioner for Health Policy.
On 9/11, Dr. Prezant was at the WTC taking care of FDNY firefighters and EMS rescue workers. He was present during the collapse and its aftermath and helped with triage efforts. Since then, he has been responsible for the design and implementation of the WTC medical monitoring and treatment program for FDNY firefighters and EMS WTC rescue workers funded by the National Institute of Occupational Safety & Health. Dr. Prezant has played a key role in leveraging the WTC Health Program so that members can obtain WTC Victims Compensation benefits and DOJ Public Safety benefits.
Most recently, Dr. Prezant has assisted the Fire Commissioner and Chief of Department in coordinating FDNY's response to Pandemics including EBOLA and COVID-19 – including medical protocols, personal protective equipment, testing, vaccinations, and other related activities.
In addition, Dr. Prezant's expertise has led to advances in firefighting gear for the prevention of burn injuries and the improvement of physical performance; design of the IAFF Wellness Fitness Initiative and the IAFF Candidate Physical Ability Test; the FDNY electronic medical record and injury reporting system, computerized triage for the NYC 911 EMS system, and Medicare's EMS ET3 model initiative.
Dr. Prezant has served on the National Academies' Institute of Medicine Committee on Personal Protective Equipment; is a member of the IAFF Redmond Advisory Board and the NFPA Health and Safety Committee (co-authoring the Standard on Comprehensive Occupational Medical Program for Fire Departments).
He has authored over 250 peer-reviewed medical scientific papers, of which over 100 have been on the health impact of the WTC on NYC Firefighters and EMS workers including seminal papers in the New England Journal of Medicine, the Lancet, the CDC's MMWR, Environmental Health Perspectives, the American Journal of Respiratory and Critical Care Medicine and CHEST. This work has identified illnesses such as asthma, chronic bronchitis, COPD, sarcoidosis, rhinosinusitis, gastroesophageal reflux, mental health disturbances, obstructive sleep apnea and cancers as WTC-related illnesses eligible for federal coverage.
In recognition of these activities, Dr. Prezant has received numerous awards including at Albert Einstein College of Medicine distinguished teaching awards, the American Thoracic Society's Public Service Award (2011), the American College Chest of Chest Physicians' Presidential Citation Honor Lecture Award (2012) and the Ellis Island Medal of Honor (2023).
Rich Stanek
Co-Founder, Public Safety Strategies Group, Retired Sheriff Minneapolis, LinCT-AA Board and Former President
Rich Stanek is an internationally recognized expert in law enforcement, public safety, and corrections. While licensed as a police officer for nearly four decades, Rich served as Minnesota's Commissioner of Public Safety and Director of Homeland Security, and as Sheriff of Hennepin County, Minnesota.
Sheriff Stanek (ret.) has led national, state, and local law enforcement agencies, and is well-known as an innovator and champion for the public safety mission; he is a published author, frequent conference speaker and media guest.
Rich is the Principal Consultant for Public Safety Strategies Group, LLC (PSSG) a national consulting firm providing subject matter expertise and services for public agencies and private firms across the United States. Rich works with Executive-level leaders from small agencies to Fortune 500 Companies providing PSSG's clients with a broad portfolio of services, including organizational and leadership studies and guidance, strategic planning, information sharing; leveraging and developing new technology, corporate security, and relationship development.
Rich Stanek's national leadership influences included Law Enforcement Senior Advisor to the Director of National Intelligence (DNI), Secretary of Department of Homeland Security (DHS), and Director of the Federal Bureau of Investigation (FBI). He was an integral contributor to FirstNet, as a Board member for 6 years. Rich served as President of the Major County Sheriffs of America (MCSA), Vice President of the National Sheriffs Association (NSA), President of the Leaders in International Counterterrorism (LinCT), and President of the Minnesota Sheriff's Association (MSA). He continues his service to the law enforcement community and on behalf of PSSG clients through his membership and work with National Public Safety and Corrections Associations; including the International Association Chiefs of Police, Police Executive Research Forum, National Sheriff's Association, and Major County Sheriffs of America.
Sheriff Stanek's legacy continues through his creation of the Hennepin County Sheriff's Community Engagement Team, Jail Mental Health Services Reforms, Violent Offender Task Force (VOTF), Criminal Information Sharing & Analysis Unit (CISA), and construction of the new regional Communications Facility. He is acknowledged to have reduced violent crime across the county by 38% between 2007-2018; he was among the first in the nation to serve as Incident Commander under the National Incident Management Systems (NIMS) after the collapse of the 35 W Bridge in Minneapolis in 2007.
Rich is a graduate of the University of Minnesota, with a bachelor's degree in Criminal Justice; he earned a Masters' Degree in Public Administration from Hamline University. He has been married to Sally Stanek since 1986, and they have two adult children. He is an avid Minnesota outdoorsman, and enjoys fishing, boating, hunting, snowmobiling, and even ice fishing in below zero temperatures.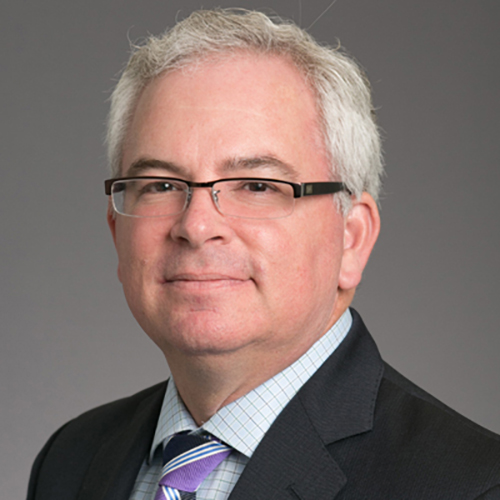 Vincent Talucci
Executive Director/Chief Executive Officer, International Association of Chiefs of Police (IACP)
Vincent Talucci serves as the Executive Director / Chief Executive Officer of the IACP. As the chief staff executive, Mr. Talucci is responsible for leading a staff of over 140 professionals and providing strategic guidance to the IACP's volunteer leadership, membership, and stakeholders on critical issues confronting the global policing profession.
Prior to being appointed Executive Director in 2014, Mr. Talucci was IACP's Deputy Executive Director, Director of IACP's Programs and Research Activities Directorate, and oversaw a broad range of core association services: police operations and management evaluations; promotional testing; executive search and placement; and oversight of federally supported programmatic efforts.
From 2010 to 2012, Mr. Talucci served as Principal Advisor for Law Enforcement, State and Local Government Practice, with SAS, a worldwide software industry leader in analytics. From 2002 to 2010, Mr. Talucci served with the IACP, progressing to Director of the Division of State and Provincial Police (S&P), and worked to forge strategic directions to address critical issues facing state and provincial law enforcement, and led efforts in information sharing, homeland security, and innovative technology. Before joining IACP, Mr. Talucci worked with the United States Department of Justice's National Institute of Justice, where his responsibilities included the substantive management of criminal justice initiatives.
Mr. Talucci holds a Bachelor of Arts from Rutgers University, a master's degree in Public Administration from the University of Washington and is a Certified Association Executive (CAE).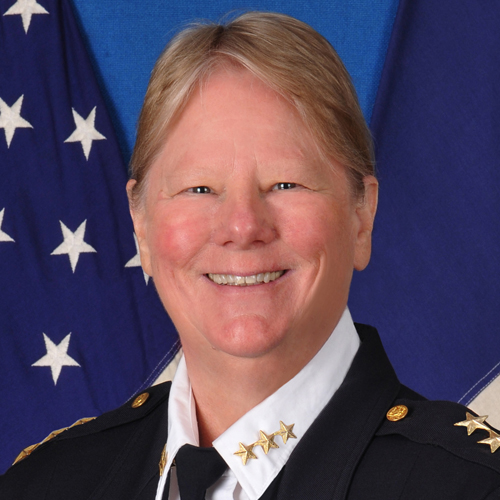 Theresa Tobin
NYPD, Chief of Interagency Operations
Chief of Interagency Operations Theresa Tobin joined the NYPD in 1983 and began her career on patrol in South Jamaica, Queens. She was promoted through the ranks to her current title of Chief of Interagency Operations. Chief Tobin has served as the Commanding Officer of the Behavioral Health Division, the Office of Collaborative Policing and Staff Services Section. She has served as the Executive Officer of the 1, 10 and 13 Precincts.
Chief Tobin earned a Ph.D. and Master of Arts degree in Criminal Justice; a Master of Social Work; and a Bachelor of Science degree in Sociology/Social Work. She has been a New York State Certified Social Worker since 1985. Chief Tobin is also a graduate of the FBI Academy; the Columbia University's Police Management Institute; and Harvard University's Senior Executives in State and Local Government Program.
During her career, Chief Tobin has received numerous honors and medals including and the NYPD's Medal of Valor and a Special Congressional Recognition in honor of her heroism, bravery and sacrifice during the tumultuous events of September 11, 2001.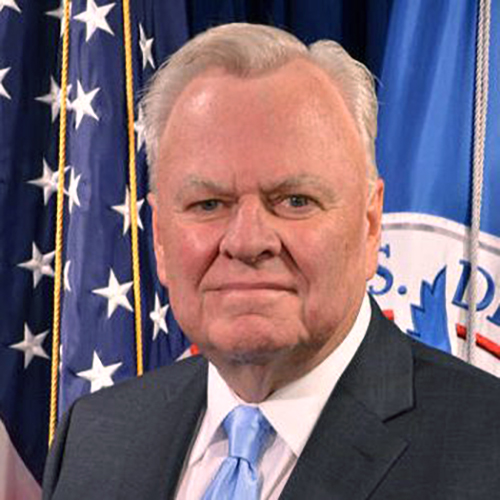 Thomas Von Essen
Former FDNY Commissioner
Tom Von Essen joined the FDNY in 1970 and worked at an elite Ladder Company in the South Bronx. Thirteen years later, he was elected to the Firefighters Union. In 1993, he was elected President. In 1996, Mayor Giuliani asked Tom to become Commissioner. This was the first and last time a Union President will ever lead FDNY.
Von Essen seized the opportunity to input "Safety/Equipment/Training" in all aspects of the FDNY. The greatest job ever for a Firefighter turned to the worst on September 11, 2001. No one cared as much or could have done more to mitigate the horror of September 11 for the FDNY.
In January 2002, Tom left to join Mayor Giuliani in his Consulting Business.
In 2008, Tom began consulting with Honeywell and Underwriters Laboratories and traveled the world speaking about FDNY, Sept 11, and improvements in safety and communication.
In 2017, he was asked to lead FEMA in its effort to help Puerto Rico and the Virgin Islands after Hurricane Maria. In 2020, he led the Federal Government Covid Pandemic Response in NY and NJ and the nightmare caused by the Pandemic.
In 2021, Tom returned to Consulting.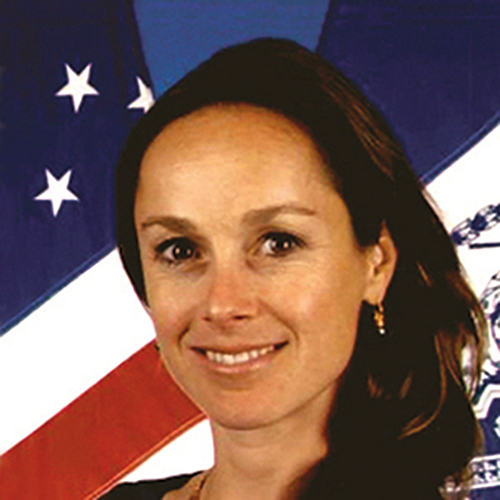 Rebecca Weiner
NYPD Deputy Commissioner of Intelligence and Counterterrorism
On July 18, 2023, Rebecca Ulam Weiner was appointed to the position of Deputy Commissioner of Intelligence & Counterterrorism at the NYPD by Mayor Eric Adams. She is the civilian executive in charge of the bureau and oversees investigative, analytical, operational, and engagement efforts across the domains of counterterrorism, counterintelligence, criminal intelligence, violence mitigation, infrastructure and event protection, cyber threat intelligence, and geopolitical risk.
In May 2023 Deputy Commissioner Weiner became a member of the LinCT-AA Board. She develops policy and strategic priorities for the Intelligence & Counterterrorism Bureau and publicly represents the NYPD in matters involving counterterrorism and intelligence. Prior to assuming leadership responsibilities over the Intelligence & Counterterrorism Bureau, Deputy Commissioner Weiner oversaw the NYPD's counterterrorism operations and analysis section, developing an internationally recognized intelligence and threat analysis program. She also served as the first representative of local law enforcement on the Office of the Director of National Intelligence's National Intelligence Council, where she focused on transnational crime and terrorism. Deputy Commissioner Weiner previously served as Legal Counsel to the Intelligence Bureau's Intelligence Analysis Unit and as Team Leader for the Middle East & North Africa, overseeing intelligence collection and analysis related to threats associated with those regions.
Prior to joining the NYPD in 2006, Deputy Commissioner Weiner was an International Security Fellow at the Harvard University John F. Kennedy School of Government's Belfer Center for Science and International Affairs; a biotechnology consultant at the Organization for Economic Cooperation and Development; and a Science & Technology Research Associate at the Council on Foreign Relations.
Deputy Commissioner Weiner graduated magna cum laude from Harvard College in 1999 with a Bachelor of Arts in History & Literature, and she graduated cum laude from Harvard Law School in 2005 with a Juris Doctorate. She is an Adjunct Assistant Professor at Columbia's School for International and Public Affairs and a member of the Council on Foreign Relations, and she was admitted to the Bar of the State of New York in 2006.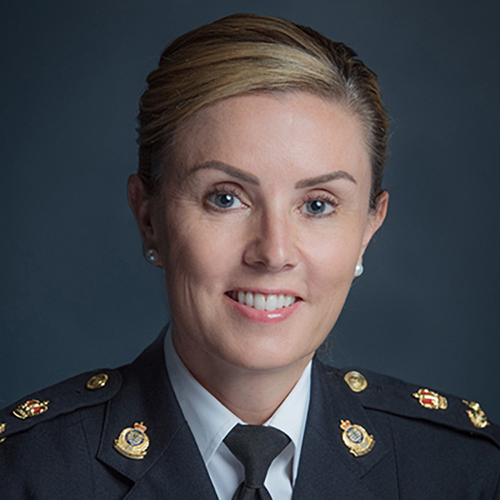 Fiona Wilson
Deputy Chief, Vancouver Police Department
Deputy Chief Fiona Wilson has over 24 years of policing experience with the Vancouver Police Department (VPD). In her current role she is responsible for the Investigation Division, leading enforcement in: major crime, organized crime, drugs, gangs, digital forensics, intelligence and counter-terrorism, sex crimes and domestic violence, cybercrime, property crime and identity theft, repeat violent offenders, youth services, mental health, forensics, and covert and technical operations.
Deputy Wilson joined the VPD in 1999 and worked as a Patrol officer in several areas, walked the beat in the Downtown Eastside, worked in the Sex Crimes and Child Abuse Unit, and was an investigator in the Professional Standards Section. She was a Crisis Negotiator, a Field Trainer, and completed various assignments working undercover for the Vice and Drug squads. She participated in several long-term major crime files both at the detective and sergeant ranks and spent time seconded to the RCMP Federal Serious Organized Crime Unit as a Team Leader on an international drug investigation. Deputy Wilson oversaw the Court and Detention Section as an Inspector and made significant long-term improvements to the Vancouver Jail while in that role.
Deputy Wilson sits on a variety of Committees and Boards. She is co-chair of the Canadian Association of Chiefs of Police (CACP) Drug Advisory Committee, is a member of the CACP Counter Terrorism and National Security Committee, and the National Police Service National Advisory Committee. She sits on the Boards of the Provincial Advisory Committee for the Criminal Intelligence Service of BC & Yukon, the British Columbia Association of Chiefs of Police, the International Society for the Reform of Criminal Law, and the Streetohome Foundation.
In her previous position, Deputy Wilson represented the VPD as Deputy Chief Officer with the Combined Forces Special Enforcement Unit – British Columbia, leading efforts to address serious organized crime in the province.
Deputy Wilson is the recipient of an array of VPD commendations and community awards. She is a provincially accredited Team Commander, holds Bachelor and Master of Arts degrees in Criminology from Simon Fraser University, and is a Member of the Order of Merit of the Police Forces. She is married with three children.