VOICES NJ Resiliency Symposium | 2015
Click here to view a photo gallery of the Symposium.
On Friday, April 3, 2015, VOICES hosted its annual Resiliency Symposium, "Promoting Resiliency in Communities Impacted by Trauma: Identification and Treatment of Long-Term Needs." This year's Symposium was an insightful day that featured presentations, panel discussions and interactive educational speakers led by accomplished clinicians, authors, and researchers. We were pleased to bring together this group of professionals with expertise in the fields of psychology, research, occupational health, and medicine.
The event was supported by our generous co-sponsors The World Trade Center Health Program, the United Way of Central Jersey, and the Rutgers School of Social Work.
The day-long event included presentations by subject matter experts who have provided support services for children, families, responders and survivors impacted by 9/11. The Symposium also offered information to mental health professionals, emergency managers, students, and other community stakeholders working in the field of trauma. Among the day's highlights are the following: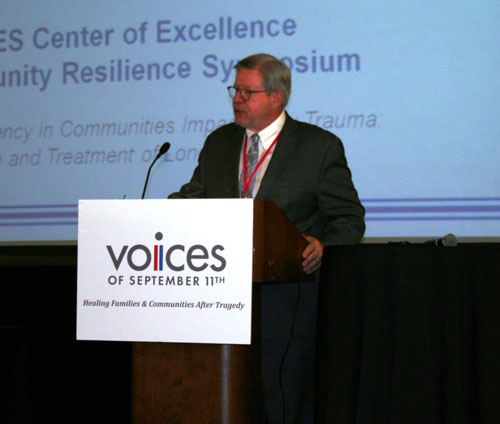 Richard Edwards, Ph.D., Executive Vice President for Academic Affairs at Rutgers, opened the event. Dr. Edwards has been a longstanding supporter of VOICES work since our New Brunswick, New Jersey office opened in 2009. As former Dean of Rutgers Social Work School, Dr. Edwards has a unique understanding how traumatic events impact individuals and communities and recognizes the importance of our work.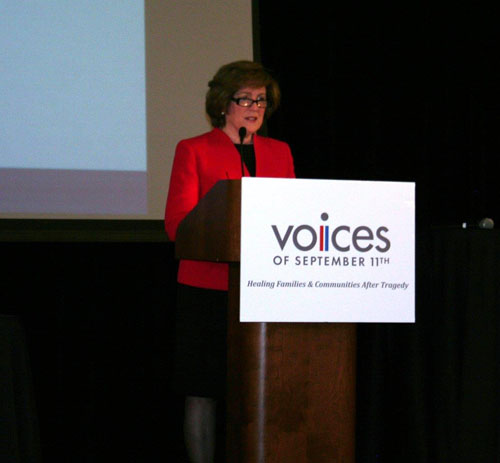 Mary Fetchet, LCSW, VOICES Founding Director spoke about the long-term needs of victims' families, responders, survivors and their families. She defined the impacted community well beyond those who were directly impacted. "We recognize that 9/11 was a defining moment in the history of our country, a national tragedy with international scope." She also noted that, individuals don't "get over it", they learn to live with it, and create new meaning in their lives.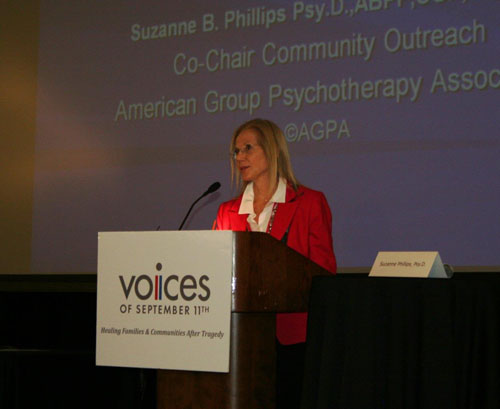 In her presentation, Suzanne Phillips, Psy.D., noted that the road from trauma to hope and healing is neither predictable nor time-sensitive. For individuals, families, couples and caregivers, it is a journey made possible by the safety of connection, the words that narrate healing, the power of understanding, the grief that transforms loss, and the self-compassion that fosters resiliency and self-care. Said Dr. Phillips, "It is a journey that we don't have to take alone."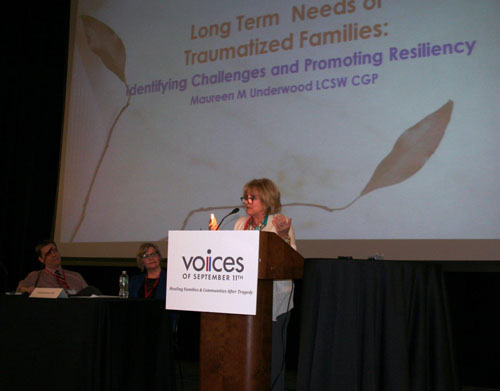 During their panel discussion, Mickie Brown, RN; Craig Haen, Ph.D.; and Maureen Underwood, MSW, LCSW discussed ways to promote resiliency in children, families, and responders. They identified the challenges in doing so, as well as the long term implications for families who have experienced trauma.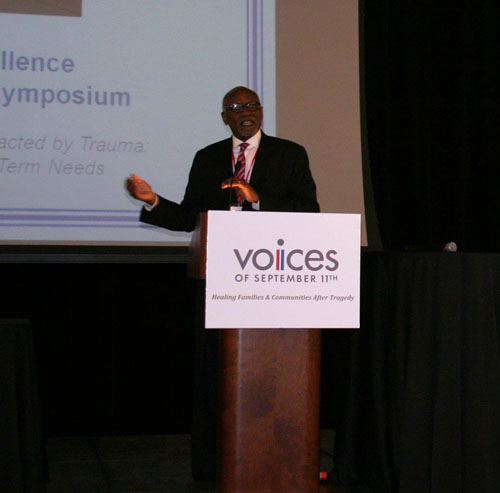 Ronald Quincy, Ph.D., Professor of Professional Practice at the Rutgers School of Social Work, opened the afternoon session. Dr. Quincy spoke passionately about the role of social workers responding to international tragedies, and how we are all interconnected in serving the greater good.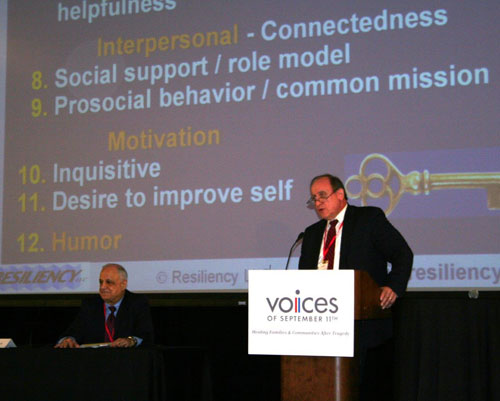 Also participating in the Symposium were Dr. Alex Kehayan and Dr. Joseph Napoli, authors of Resiliency in the Face of Disaster and Terrorism: 10 Things to Do to Survive. Dr. Kehayan and Dr. Napoli identified the 12 assets of resilient individuals, how experience can enhance resilience, and five themes for fostering resilience. Our attendees put these principles into practice through a collaborative experiential learning exercise.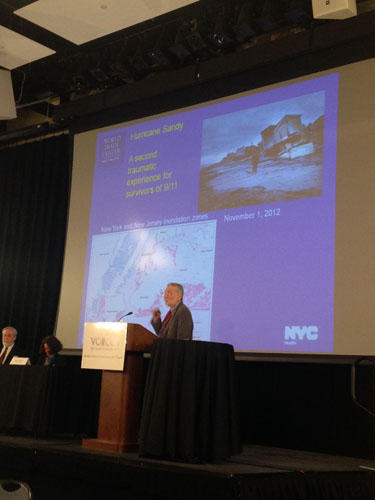 Dr. Iris Udasin, Medical Director of the EOHSI Clinical Center at Rutgers, discussed the physical and mental health issues in the responder population she treats, including an important update on concerns regarding cancer issues among her patients. Dr. Steven Stellman, Professor of Clinical Epidemiology at Columbia University's Mailman School of Public Health, described the scope and goals of the World Trade Center Health Registry, including recent research findings in the areas of respiratory health, chronic diseases, and mental health conditions. Clifton Lacy, M.D., Director of the Institute for Emergency Preparedness and Homeland Security at Rutgers,
"Events like the Symposium provide us with the chance to come together as a community, and to share our lessons learned with those providing services to victims' families, responders and survivors," noted Ms. Fetchet. "We were impressed by our presenters' dedication to helping families and communities, and their focus on promoting hope and healing in the lives of those they work with."
The Symposium is an initiative of VOICES Center of Excellence for Community Resilience, as part of the organization's commitment to helping families and communities heal after other tragedies. The Center of Excellence is a collaborative effort to work with public/private partnerships to advance research, discourse and dialogue on issues that impact the long-term recovery of victims' families, responders, and survivors. Click here to view a photo gallery of the Symposium.
---
---
VOICES Center of Excellence for Community Resilience
Annual Symposium Agenda
Friday, April 3, 2015
9:00am - 3:00pm
Rutgers University
Livingston Campus Student Center
84 Joyce Kilmer Avenue
Piscataway, NJ 08854
Opening Remarks
Long-Term Needs of Victims' Families, Responders and Survivors
The Journey from Trauma to Hope and Healing
Afternoon Introduction
Case Studies: Providing Group Therapy and Peer-to-Peer Support
Lunch Keynote: Enhancing Your Resiliency through Experience
Health Care Workers and Disasters: Perceptions and Observations
Promoting Healing Through Mind and Body Exercise