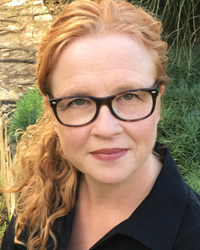 Sarah joined VOICES in December 2019. Her primary responsibilities include leading the daily operations of our support services and programs, coordinating outreach efforts, conducting needs assessments, and providing group support interventions and mental health referrals.
Sarah has extensive experience as a clinical social worker; she has worked in diverse mental health venues including hospital, community and educational settings. Sarah's particular clinical interests center on trauma recovery and family systems. Sarah is an EMDR Trained Therapist (Eye Movement Desensitization and Reprocessing) and a Certified Community Crisis Responder. Sarah maintains a private psychotherapy practice in Ridgefield, CT. Sarah also has a background in training, program development, and management; for over a decade she worked in human resources at two multinational advertising agencies as the director of people development worldwide.
Sarah received her Master of Science in Social Work degree from Columbia University in New York, and her Bachelor of Science (Psychology) from Northwestern University in Chicago. Sarah lives in New Milford, CT with her husband Greg.