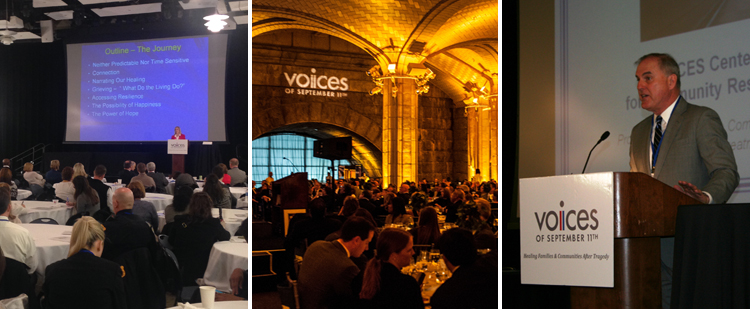 VOICES offers a wide range of support services that promote healing and resilience in the lives of victims' families, responders and survivors.
Annually VOICES surveys its membership to determine which programs would be most meaningful to them. Through the surveys, our members have told us that the opportunity to come together to share their common experiences is most important. Programs are created that both give them this time to come together as a community as well as the opportunity to learn more about subject matter of special interest to them.
The programs vary. They include informative events - such as the Annual Information Forum, Speaker Series and Scholarship Forums. Commemorative events include the September 11th Anniversary Luncheon and the Interfaith Services, Each year, at the Annual "Always Remember" Gala, we hear from keynote speakers about their remembrances of 9/11 and we honor those who have made important contributions to the 9/11 community with Building Bridges awards.
Our commitment to the stories of those who died on 9/11 continues to be addressed through the VOICES 9/11 Living Memorial Project. Staff members meet with those who lost loved ones, as well as responders and survivors, to create tributes that will be an integral part of the In Memoriam exhibit at the 9/11 Museum, The VOICES staff also meets regularly with survivors and responders to help them learn more about their eligibility for the World Trade Center Health Program.